WHY DOES THE DIOCESE NEED TO CONDUCT BECAUSE WE ARE CATHOLIC APPEAL?
Through the BECAUSE WE ARE CATHOLIC Appeal, the Diocese provides funding for a wide range of services and ministries which are larger than anyone parish could support. By coordinating efforts and pooling resources, the Diocese enables parishes and parishioners to serve thousands of children, adults, and families throughout Berks, Carbon, Lehigh, Northampton, and Schuylkill counties.
ARE BECAUSE WE ARE CATHOLIC ANNUAL APPEAL FUNDS USED TO PAY LEGAL FEES OR SETTLEMENTS FROM THE SEXUAL ABUSE CRISIS?
No. The BECAUSE WE ARE CATHOLIC Annual Appeal does not fund legal fees or the Independent Reconciliation and Compensation Program for victims and survivors of abuse.
WHY SHOULD I SUPPORT THE BECAUSE WE ARE CATHOLIC ANNUAL APPEAL?
Our Catholic family of faith in the Diocese of Allentown is committed to helping those in our community who are most in need. Your support of the BECAUSE WE ARE CATHOLIC Annual Appeal helps to ensure that you, your loved ones, your neighbors, and your co-workers have help when it is needed. Your gift is an outward sign of your faith in God and the work of His Church.
HOW ARE PARISH GOALS CALCULATED?
Each parish's goal for the BECAUSE WE ARE CATHOLIC Annual Appeal is based on its typical weekly collection in relation to the total weekly collection across the Diocese. In this way, local goals take specific parish resources and abilities into account in relation to the entire Diocesan community.
For those who wondered whether you'd ever use algebra again after high school, parish goals are set using the following formula:
Parish BAA Goal =
(Total Parish Sunday Collections ÷ Total Diocesan Sunday Collections)
x Total BAA Goal
WHAT HAPPENS IF MY PARISH RAISES MORE THAN ITS GOAL?
When parishes raise more than their goal, 50 percent of funds collected over goal is returned to the parish. If a parish does not exceed the goal but raises more than the previous year, 15 percent of funds collected above last year's total is returned to the parish.
HOW LONG WILL I HAVE TO MEET MY PLEDGE?
We are asking parishioners to fulfill a pledge over a six month period. Making a pledge allows you to contribute a larger gift to the BECAUSE WE ARE CATHOLIC Annual Appeal over a period of time. Monthly reminders will be mailed from the Diocesan Office to assist you in fulfilling your pledge.
WHAT'S THE DIFFERENCE BETWEEN A PLEDGE AND A RECURRING GIFT?
A Pledge is paying a certain amount over a set period of time. Payments can be made in installments that fit your financial situation. Payments will be processed on or around the 20th of each month.
• Example: A donor might pledge $2,400 to be paid over six months, by installments of $400 per month.
A Recurring Gift will have the full amount you donated paid every month until you cancel the gift. You can choose to end all payments at any time or pay indefinitely.
• Example: A donor might make a $400 gift. $400 dollars will be donated every month until the donor cancels.
SAMPLE GIFT SCHEDULES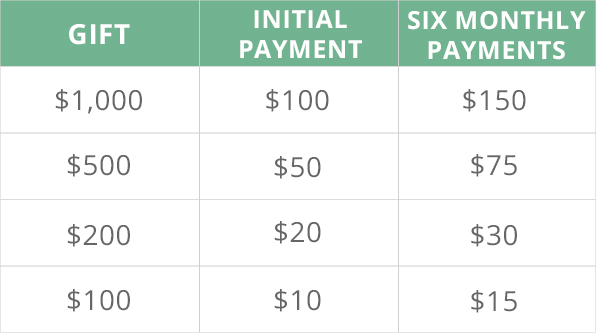 How can I make a gift?
For your convenience, pledge forms are available at every parish. You can also make a gift by phone (1.800.831.4443) or online at www.faithhopecharitygives.org
---